For our free coronavirus pandemic coverage, learn more here.
In March 2020, former personal trainer Matt Gardener tested positive for COVID-19. Two years on, the 36-year-old is still struggling to do basic exercise. His energy and ability to exercise, he says, "have never really come back."
Before his infection, Gardener went to CrossFit five days a week. Today, if he tries to push himself in the way he did before the illness, he feels so heavily fatigued and foggy-brained, he can't exercise for days after: "It's like a hangover." One that won't go away.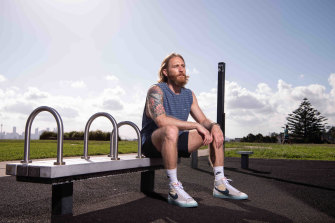 Accepting new limits: COVID has changed Matt Gardener's ability to exercise. Credit:Flavio Brancaleone
"I've had to find new limits," says the Bondi resident. His threshold is now two days a week of light exercise. "The fatigue is the biggest pain-point. My mental state has definitely altered too. The exercise I used to do kept me happy. Things right now get very overwhelming … And nobody has the answer about how to fix it."
The effects of COVID-19 on fitness range enormously: some people snap back, some struggle to exercise for a couple of weeks or months after an infection, while others, like Gardener, feel the effects for years.
Gardener is one of many people suffering from "long COVID", the term used to describe those with symptoms that last more than 12 weeks.
Certain people are at a higher risk of developing long COVID, including those who are unvaccinated, are a female over 40, have a high viral load while infected, have diabetes or have certain antibodies.
But anyone can get it, and experts say the reasons are not yet well understood. One study of more than 270,000 people found a third had at least one symptom of long-COVID up to six months after their diagnosis.
"It's really quite random at this point," admits Meredith King, a senior respiratory physiotherapist and researcher on a study, named ADAPT, investigating the long-term effects of COVID-19.
The majority of people in the study were adults who were otherwise fit and well. "They had some mild symptoms during COVID but essentially didn't recover," King says.
Dr Erin Howden, the head of the human integrative physiology lab at the Baker Heart and Diabetes Institute, is witnessing a similar phenomenon.
"It's typically high-functioning, active individuals who had COVID and really struggled to get back to that normal life they were able to maintain prior," she says. "We're seeing people in their 20s, 30s, 40s – its not just individuals who had pre-existing medical conditions, so that's been really surprising."
Researchers are still trying to understand why COVID-19 is affecting people's energy and ability to exercise, but for those with long COVID, it's a constant struggle. The hallmark symptom is extreme fatigue, but there are other possible symptoms: reduced peak aerobic capacity, shortness of breath, low blood pressure, a racing heart, brain fog, and, as seen in among as many as 89 per cent of long COVID sufferers, a worsening of symptoms after exercise.
The question is why? And what can be done about it?
Normally, regular exercise supports the immune system and is likely to protect from severe COVID-19 illness and aid recovery, says Frank Marino, a professor of Applied Physiology at Charles Sturt University, but following a COVID-19 infection, there are variables that mean some people respond differently – and that's where the mystery lies.
"It appears the disease finds chinks in the armour that you have … medical science is still grappling with 'what is this disease doing to find these chinks?'"
The exercise I used to do kept me happy. Things right now get very overwhelming … And nobody has the answer about how to fix it.
The effects being seen go beyond the usual loss of fitness that happens when we've been unwell and unable to exercise, and beyond the expected impact on our energy levels which are depleted when fighting off an infection.
Persistent inflammation in the blood of long COVID sufferers is one factor, explains Associate Professor Anthony Byrne, a respiratory physician at St Vincent's Hospital Sydney and the president of the NSW Thoracic Society.
"We also know that there is a very important relationship between the mind and body," he says, pointing to PTSD, depression, and a lack of motivation. "This has implications for exercise and rehabilitation."
Long-term effects on lung function are another possibility, says Dr Nirvana Luckraj, the chief medical officer of Healthdirect Australia. "It may take time to increase lung capacity after the infection," she explains.
The Baker Institute's Howden, who is currently studying long COVID and fatigue, suggests that the fact the virus enters the body via a protein called the ACE2 receptor, which is in our blood vessels, hearts and lungs, could explain the systemic effect on the body.
"But a lot of discussion about the virus is that it creates this big inflammatory storm and that will also have systemic effects on different systems within the body and that might be why someone might have a mild initial infection and then develop all these symptoms that are quite debilitating later."
While the research continues, experts have advice for returning to exercise after an infection.
"Exercise is important for recovery … but should be done gradually and safely," Luckraj says.
This means not trying to pick straight back up where you left off. Once symptoms have subsided, Luckraj suggests starting off with 15 minutes of light activity like walking or cycling and seeing how you feel.
King suggests exercising every second day to begin with and to cut back intensity or duration if you feel fatigued the day after exercise.
"It's a really tricky balance," King says. "Be mindful of what you're doing, give yourself time and speak up if things don't feel right. Even in people who are very well, it can take several months to feel consistently back to what you were doing before."
Make the most of your health, relationships, fitness and nutrition with our Live Well newsletter. Get it in your inbox every Monday.
Most Viewed in Lifestyle
From our partners
Source: Read Full Article