Henry Cejudo is not one to give away an edge.
That shouldn't be too surprising. After all, the fighter, who holds an Olympic gold medal in wrestling (2008) along with the current UFC flyweight belt, has a title to defend against TJ Dillashaw at UFC Fight Night: 143 in Brooklyn on January 19.
So when we asked the champ to give us some insight on his top 5 moves, he didn't want to tell us a thing. He flat out told us that he wouldn't—but his refusal wasn't just to keep his edge. The former freestyle wrestler instead told us, unsurprisingly, that his style isn't the type of thing that can be ranked and quantified. "I don't have five favorite moves, I fight according to reaction," Cejudo says.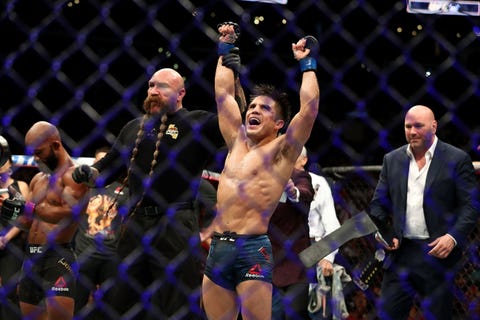 Getty ImagesJoe Scarnici
He did share his favorite move to use in the Octagon with us. Cejudo says he favors the inside trip, which shouldn't come as a surprise—it's a subtle precursor to a takedown, where he can use his grappling acumen to devastating effect.
First, he entices his opponent into a clinch. Rather than sticking his foot outside of his opponent's legs and pushing them over that way, Cejudo works from the inside. He steps inside the opponent's guard, then wraps his leg around theirs to gain leverage. Once he has the leg hooked, he sweeps in to take their balance away while forcing them down from the clinch position up top.
More than anything else, Cejudo exudes calm control. Before fights, he's sure to dial down and make sure he's in control. "I'm thinking like a smart, intelligent mixed-martial artist," he says.
Source: Read Full Article