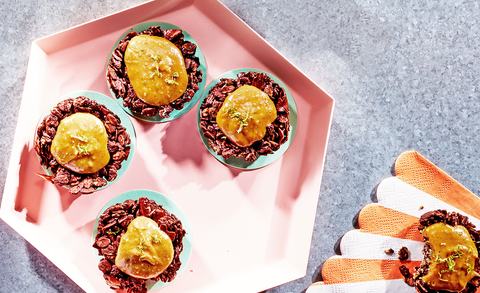 Made with rolled oats, protein-packed peanut butter, vegan chocolate, and coconut chips, this vegan peanut butter cup recipe is a standout you'll make again and again. Oh, and it does not skimp on the peanut butter.
One important thing to note when you're choosing chocolate: Even super dark chocolate bars contain traces of milk, so it's best to look for one that's labeled "vegan" for a truly dairy-free option.
These magical cups are topped with sprinkle of lime zest, which balances out the richness of the dessert. And while it may seem like a decorative garnish (you know, since it didn't land a spot in the dish's name and all), the lime will add a kick that you (and the lucky people you share these with) will obsess over.
rolled oats
coconut chips
vegan chocolate, melted
coconut oil, divided
smooth peanut butter
maple syrup
lime zest, plus more for sprinkling
Per serving: 160 calories, 3 g protein, 14 g carb, 3 g fiber, 4 g sugars (1 g added sugars), 11.5 g fat (6.5 g sat fat), 25 mg sodium
Source: Read Full Article