I will never forget the look on my friend Lyn's* face when she told me she was having an abortion. She realised I would be shocked as I knew it was her dream to become a mother. What's more, she was in a committed relationship with a man she was crazy about who also professed to wanting kids. And, at 38, she was well aware her fertility was declining rapidly.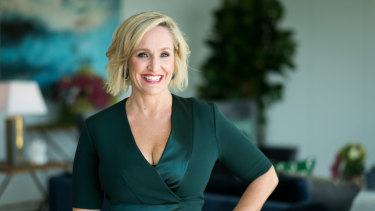 Fifi Box is expecting her second child.
I didn't know what to say or how to respond to her news.
"It's just not the right time, with the trip and all," she continued, not too convincingly, referring to a trip to England and Europe they had planned. "John* thinks it would be better if we try again when we get back and are more settled. It took me a while but now I agree it's probably for the best."
"Only you can make this decision and I respect whatever you decide to do," I eventually answered in lieu of what I really wanted to say which was, "Are you absolutely sure?" I then gave her the biggest hug I could muster. There was nothing else I could do but wish her love.
A year after they returned from their trip, Lyn and John were over. She found herself 40, single, childless and furious. Lyn felt cheated of her dream, manipulated and deeply regretful. When she learnt John became a father soon after with a new, younger partner, she was devastated at the perceived injustice.
Today, as she nears 50, Lyn is in a happy relationship with a man who would also love to have kids, however, their numerous IVF efforts have been unsuccessful. She never mentions the abortion and I never bring it up. Some things are too painful to discuss.
I have been thinking about Lyn a lot since hearing the joyous news that radio celebrity and The Project host Fifi Box is expecting her second child via IVF with an anonymous donor. Her first, a happy little cherub named Trixie, was the result of a short-lived affair with former Iron Man Grant Kenny, who remains a part of Trixie's life while Box raises her as a single parent.
Box, 41, is one of a growing number of women who refuse to have their reproductive lives dependent on men and are taking control of their desires and destiny. The pill and legalised abortion may have given women the capacity to choose not to have children but now, with advancements in reproductive techniques such as egg freezing, sperm donors and IVF, women also have the chance to choose when and if they have children, too. And for so many women, this is a blessing and a gift.
Recent generations of women have been inundated with messages that we are ticking biological clocks, that we should have kids young and not wait. Yet, we are also dealing with traditional notions and expectations of marriage and commitment first. We want our children to have every opportunity in life, which, for many, means two parents.
Meanwhile, men are not experiencing similar pressures to commit and procreate. They can have kids when and if they choose, as there isn't a use-by date on their sperm. And with the advent of internet dating and a shunning of religious conventions and monogamy, they can take their time deciding.
Kate Stern, Associate Professor of Obstetrics and Gynaecology at the University of Melbourne and senior fertility specialist at Melbourne IVF and The Royal Women's Hospital, says she is seeing more women taking control of their own fertility.
"An increasing number of women are optimising their chances of future fertility by freezing their eggs but there is no guarantee this will result in a successful pregnancy when the time comes. So, many are choosing to go it alone," Stern says.
"One huge misconception I'd like to clear up is that the women we are seeing are all career driven types who left it too late and other cliched stereotypes. This is not the case. The women seeking our help are women of all ages and socio-economic backgrounds who lack the opportunity for children the conventional way and want them desperately.
"They are very brave and should be proud of what they are doing because it takes real passion and commitment. I applaud women like Fifi who are sharing their stories and journeys. I used to see women coming in with their shoulders slumped, almost ashamed of their desire for children or feeling like failures for not having any and that is something I am delighted to see changing."
One factor which seems to inhibit a lot of single women who want to have children is the cost factor, something Stern admits can be high as currently Medicare rebates only exist for women with medical infertility.
Which is one of the many reasons why Box is acutely aware how lucky she is, not only to be able to afford the procedure, but to have a successful pregnancy as the outcome (she was told she had only a seven per cent chance of conceiving). However, she hasn't forgotten those who aren't so fortunate.
"I know the value of this miracle because I have seen first-hand the heartbreak, tears and sacrifices so many women and couples suffer on their IVF journeys and my heart goes out to those who are facing that pain and struggle," she says.
It is this attitude and gratitude that makes Box's happy news the absolute highlight of my week. I am absolutely delighted for her and Trixie and know in my heart my friend Lyn, despite her personal disappointment, will be too.
Wendy Squires is a regular columnist.
*Names changed for privacy reasons.
Source: Read Full Article